Fireplaces in Salt Lake City, Provo, Willard, UT, and, Surrounding Areas
A fireplace makes your home warm and cozy during the freezy winter. As it is one of the central sources of heat, Jones Heating & Air Conditioning designs your fireplace according to the space available and makes the environment comfortable in your home and office. We assure a smooth fusion of traditional fireplace aesthetics with an iconic, contemporary design using our revolutionary approach to fireplace design. We make sure that our fireplaces are both aesthetically pleasing and practical. Contact us today for fireplaces in Salt Lake City, Provo, Willard, UT, and surrounding areas.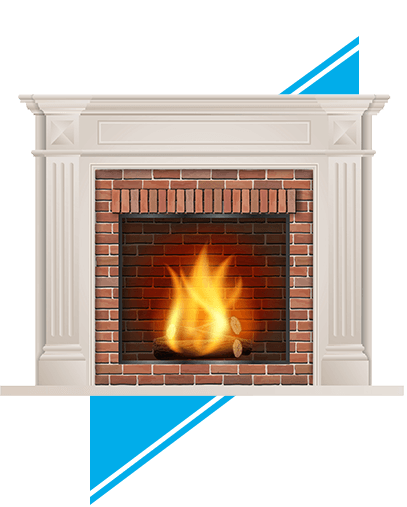 Fireplace Styles for Your Home
Gas Fireplaces: Keep your home up-to-date with the current architectural trends.
Wood Fireplaces: Create a soothing atmosphere with this traditional fireplace.
Electric Fireplaces: When a real fireplace isn't an option, this is your next best alternative.
Outdoor Fireplaces: These will help extend the warmth of your home to your outside area.
Warmth: An interior fireplace might offer warmth during winter. Since most indoor fireplaces only require a few amounts of kindling and energy, this can lower your heating costs.
Interior Decor: Many people appreciate having a fireplace in their homes and offices because it adds a warm aesthetic to the space's overall environment. It can add to the interior design of the house. It is possible to decorate fireplace mantels for the current season and holiday.
Natural Lighting: You can utilize your fireplaces instead of using conventional lighting, such as an overhead fixture or free-standing lamp. A fireplace isn't a replacement for conventional illumination, to be sure, however you may still use it to light and warm up your house at night.
Easy to maintain: Some people believe that maintaining a fireplace takes a lot of effort and time, but this isn't always the case. They only need ash removed from the bottom of the firebox and shoveled away for upkeep.
Less expensive utility bills in the winter: If your home has a wood-burning fireplace, you might anticipate paying less in utility costs during the winter. Central heating is costly, whether it is powered by gas or electricity. But you can utilize your fireplace to reduce this expenditure rather than solely depending on central heating.
Learn more about us on Facebook or Twitter for fireplaces in Salt Lake City, UT, and Surrounding Areas.
Choose The Experts For Your Heating Services
We have been providing fireplaces in Salt Lake City, Provo, Willard, UT, and the surrounding areas for three generations. Every customer deserves high-quality goods and services, in our opinion. We provide round-the-clock service and have professionals who can design your fireplace. Allow our professionals to assist you in creating the fireplace of your dreams. Call us at (844) 998-0969 for the best air conditioner repair in Salt Lake City.
Jones Heating & Air Conditioning provides free estimates on all of our work. Based on our inspection of your home, we'll make recommendations for the best fireplace design.
We provide excellent services at a reasonable price. There are no extra charges.
We have a 24-hour service.
We have undergone extensive training to design and manage fireplaces.
Call us today to schedule the heating tune-up in Salt Lake City. 
Contact Us Today for Fireplaces in Salt Lake City, Provo, Willard, UT, and, Surrounding Areas